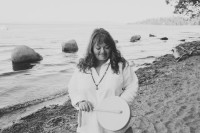 Monique Gray Smith
Monique Gray Smith is of Cree, Lakota, and Scottish descent and is the proud mom of twins. She is an award-winning author, international speaker, and sought-after consultant.
Monique's first published novel, Tilly: A Story of Hope and Resilience, won the 2014 Burt Award for First Nation, Métis, and Inuit Literature. Her other titles include My Heart Fills with Happiness, winner of the 2017 Christie Harris BC Book Award for Children's Literature, Speaking our Truth: A Journey of Reconciliation, and
Monique is well known for her storytelling, spirit of generosity, and focus on resilience.
The Journey Forward, A Novella On Reconciliation: Lucy & Lola is Monique's first title with McKellar & Martin Publishing Group.
Photo Credit: Centric Photography