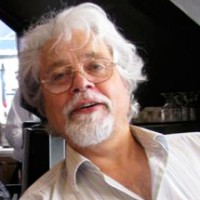 Michael Nicoll Yahgulanaas
Michael Nicoll Yahgulanaas is a renowned author and artist whose works have been exhibited worldwide. He is also the creator of unique and hugely popular Haida Manga, a fusion of Japanese and Haida art styles. One of his most recent titles, Flight of the Hummingbird (D&M), received the Gold Medal for Outstanding Book of 2009 from the Independent Booksellers Association /Storyteller of the Year, and was a nominee for the BC Booksellers' Choice Award.
His latest title, Red: A Haida Manga (D&M), was released in October 2009 and has been nominated for a BC Booksellers' Choice Award, a Doug Wright Award, and a 2010 Joe Shuster Award for Outstanding Canadian Cartoonist.
Michael is originally from Haida Gwaii, and currently lives in the Canadian Pacific Northwest. The Canoe He Called Loo Taas is his first published collaboration with Ms. Reid-Stevens.  The Canoe He Called Loo Taas is currently available:
Please feel free to send Michael a message: authors@mckellarmartin.com