Timbertown Tales: Chester Gets a Pet! by Judson Beaumont with Joanna Karaplis, illustrated by Breanna Cheek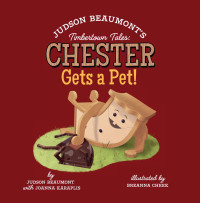 For PayPal orders, please click here. If you'd like to purchase two or more copies of this title, please contact us, directly: orders@mckellarmartin.com. Thanks!
Deep in a forest just north, south, east, or west of where you live, there's a small, almost-hidden town that might be a lot like yours:Timbertown. Welcome to the first title in the "Timbertown Tales" series, which features award-winning designer Judson Beaumont's fantastic pieces as characters who definitely have lives of their own…
Chester O'Drawers Teakson wants a pet, but his parents just don't think he's old enough yet. So, Chester has to find a way to prove that he's ready and responsible. Then along comes Sandy. Is she a kitten? No. Is she a goldfish? Nope. But she does have four legs, a lovely smooth finish, and a whole lot of puppy-like energy. Now Chester realizes that maybe — just maybe — his parents were right!
From the magical minds of Judson Beaumont and Joanna Karaplis comes a unique and very funny story about a child's first pet. Breanna Cheek's delightful illustrations bring this wonderful and inviting world to life.
Ordering information:
Release Date: November 7, 2016
For single copy orders, please click this PayPal link.
For orders of 2 copies or more, please contact us directly: orders@mckellarmartin.com.
Please note that school market, trade, and bulk orders are eligible for our discount structure, please contact: orders@mckellarmartin.com for pricing.
Price: $20.00 (plus tax, shipping, and handling)
Age level:  All ages
ISBN: 978-09916-7825-9
Format: 32-page picture book (full-colour, jacketed, hardcover), trim: 10 inches X 10 inches.