Fractured: Happily Never After? 3 Tales by Joanna Karaplis (with frontispieces by Jenn Brisson)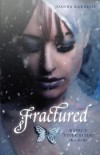 For PayPal orders, please click here. For orders of two or more copies: orders@mckellarmartin.com.
Everyone knows a fairytale, or two.  They're the kind of stories that seem to stick with you. Maybe it's the magic. Maybe it's the handsome prince. Or maybe they're just the absolute perfect place to lose yourself for a little while.
But what would happen if Snow White were around today?  Would Cinderella still need a fairy godmother? And would the Little Mermaid show up on YouTube?
Joanna Karaplis has put an unexpected spin on Snow White, Cinderella, and The Little Mermaid; she's quietly fractured the stories and then reassembled them for the 21st Century.  So, while there may not be a whole lot of horse-drawn carriages and magic potions, you can be sure that there will be at least one evil witch and maybe even a handsome prince (or two)…
Want more info on Joanna?  Please check out her author bio and her website.
Joanna's also had some amazing reviews (some of which are from her Fractured blog tour)!!!  Congrats, Joanna!
ISBN: 978-0-9865767-0-6
Price: $12.99 (plus tax, shipping, and handling)
Format: 128-page paperback
Cover: full-colour, matte w/spot lamination
Binding: perfect
Cover photography: Andreas Stridsberg / www.mystic-pic.com
Age level: YA / 13 and up
Genre: Young Adult Fiction
Currently available!
For school market / bulk orders: orders@mckellarmartin.com