B is For Basketball: An Alphabet Book by the Students and Teachers of School District No. 50, Haida Gwaii, illustrated by Judy Hilgemann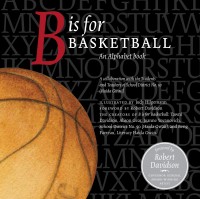 **Before ordering, please note the following:**
We will be closed for inventory and updates from August 18th – August 29th, 2017. All orders received during this time will ship on August 30th, 2017.
For PayPal orders, please click here. For orders of two or more copies: orders@mckellarmartin.com.
"This alphabet-inspired story is great from A to Z."  Leona Prince, Fireweed Canada
B is for Basketball was shortlisted for the First Nations Communities READ program for 2014-2015!  We are thrilled to have been nominated alongside so many amazingly talented authors and illustrators!
B is for Basketball was also the official book of the 2011 All Native Basketball Tournament.  These games have been held in Prince Rupert, British Columbia for over 50 years. Since its inception, the Tournament has become an important cultural gathering.
B is For Basketball was created in collaboration with the students and teachers of School District No. 50 on Haida Gwaii.  It is a tribute, and it is a labour of love.
Finally, this is also an alphabet book that includes a Foreword by Governor General Award-Winning Artist Robert Davidson, and is filled with captivating illustrations, which is sure to be enjoyed by all!
B is For Basketball was recently featured on the CBC's North By Northwest, and has been featured as a Welcome to Kindergarten (The Learning Partnership) and a Success by 6 / Children First selection!
Congrats to the Students and Teachers of School District No. 50, Haida Gwaii, and to Judy Hilgemann!
Currently available!
Price: $12.99
Format: 32-page picture book (full-colour, unjacketed, hardcover)
Age level: All ages
Genre: Fiction
For school market and trade orders: orders@mckellarmartin.com.