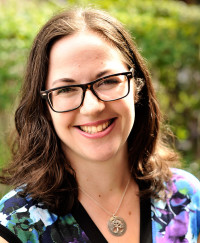 Joanna Karaplis
Joanna Karaplis works in
 the Canadian publishing industry. She is originally from Vancouver, but she now lives in Toronto with her husband, son, and two cats. Her favourite type of furniture is bookcases, and she dreams of one day building a custom reading nook.
Timbertown Tales: Chester Gets a Pet! is Joanna's first collaboration with Judson Beaumont. She is also the author of Fractured: Happily Never After? 3 Tales (McKellar & Martin).
Have a look at her website, www.joannakaraplis.com if you'd like to know more!
Photo Credit: Chris Blanchenot