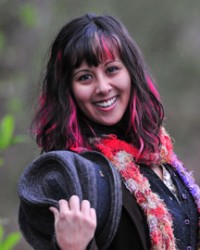 Jenn Brisson
Jenn Brisson was born in Manitoba, but has been calling BC home since the age of three. She was an outgoing and active little girl, and her parents were quick to learn that the only way to keep their daughter still was to give her a pencil and a piece of paper.
This worked like a charm for many years.
When Jenn was in high school, she was known as "The School Artist," and was commissioned by her fellow classmates and teachers.  She also designed and illustrated billboards, fliers, and the school yearbook.
As an adult, Jenn is still a big fan of cartoons (and never growing up), so she saw it fitting to enroll in the Classical Animation Program at Vancouver Film School. She was soon working in the animation industry and did so for over twelve years. Jenn's job in the animation industry has given her the opportunity to visit California, Phoenix, Korea, and China, and she's worked on many films including Space Jam, Prince of Egypt, and Curious George. 
Jenn is still refusing to grow-up, and some of her favorite subjects for her paintings have been of mischievous dolls, toys, and curious creatures. Jenn's paintings have been popping up across Canada, and have even shown in Seattle, California, Phoenix, and New Jersey.
Illustrating books for kids and young adults seems like the next step for this child-at-heart, and has been one of Jenn's life-long dreams.  Fractured… is the first book in which her illustrations appear, but certainly not the last. Jenn intends on writing and illustrating for her own series of books, and perhaps designing her own toys, too.
Photo credit: Lijuan Guo