The Darkness Between the Stars: A Novel by Julie Burtinshaw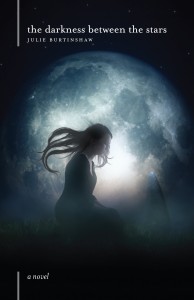 For PayPal orders, please click here.  For orders of two or more copies: orders@mckellarmartin.com
Julie Burtinshaw has written a compelling and provocative novel about the horror of teen suicide and the people it leaves in its wake.  Like her previous novel, The Perfect Cut, this is a book about tough teen issues.  But Julie has a knack for the positive and for bringing to light what can happen in troubled teens' lives when there is love, support, and understanding.
Price: $12.99 (plus shipping, handling, and tax)
Format:  216-page paperback
(full-colour cover, perfect bound)
Cover photography: Andreas Stridsberg / www.mystic-pic.com
Age level: YA / 13 and up
Genre: Young Adult Fiction
Currently available.
For school market or bulk orders:  orders@mckellarmartin.com