Nighty-Night: A Bedtime Song For Babies by Richard Van Camp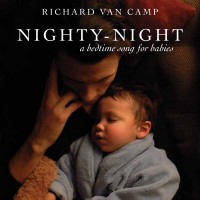 For PayPal orders, please click here.  For orders of two or more copies: orders@mckellarmartin.com.
Nighty-Night: A Bedtime Song For Babies is award-winning author Richard Van Camp's much-anticipated follow-up to the best-selling board book, Welcome Song For Baby: A Lullaby For Newborns (A "Books For BC Babies" Selection), and his debut with McKellar & Martin Publishing Group, Limited. Since it's original publication in 2012, Van Camp's Nighty-Night is McKellar & Martin's best-selling title, and is now in it's 6th printing!
Nighty-Night is a lullaby to be enjoyed in the twilight hours before bedtime. Richard's soothing, rhythmic style is perfect for shared reading, and each stanza is accompanied by warm, loveable photographs of multicultural babies, toddlers, and parents/guardians in various stages of bedtime preparation.
This beautiful board book is sure to be loved by kids, parents, grandparents, caregivers, and Early Childhood Educators. A must-have addition to any bedtime (or naptime) collection!
Price: $8.99 (plus tax, shipping, and handling)
Pages: 16 (plus cover)
Age level: All ages
Currently available
Genre: Board Book / Poetry / Non-fiction