Go Away, Unicorn! by Emily Mullock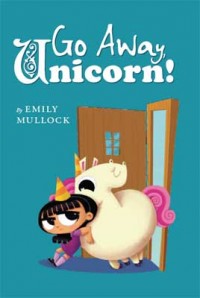 For PayPal orders, please click here.  For orders of two or more copies: orders@mckellarmartin.com.
Do you believe in unicorns?
Alice doesn't.  But what's a normal, non-girly-girl to do when a unicorn crashes her birthday party – and then refuses to leave ('cause he thinks she's a cool unicorn, too)? Alice tries everything, but the unicorn is determined to be her BFF (emphasis on the "forever"). No one should have to put up with pink glitter all over the house, or a unicorn who uses use all the conditioner to keep his mane soft and silky. Right?
Alice finally convinces the unicorn to leave.  But she soon realizes just how much of a friend he'd become. So, now the real question is: What's a non-girly-girl to do when she's lost her very sparkly, best unicorn friend?
From author/illustrator Emily Mullock comes the story of a young girl who finds a best friend in the most unlikely place…
ISBN: 978-0-9782553-7-4
Price: $19.99 (plus tax, shipping, and handling)
Format: 32-page picture book  (full-colour, unjacketed, hardcover/case: matte w/spot lamination…and subtle glitter effect, of course)
Age level: 4-6
Genre: Fiction
Currently available!
For school market / bulk orders: orders@mckellarmartin.com