Thank you for joining us for the Timbertown Tales: Chester Gets a Pet launch!!
October 27, 2016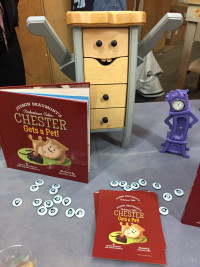 Thanks for supporting Timbertown Tales: Chester Gets a Pet! at this year's Eastside Culture Crawl!
Remember to purchase your signed copy from Judson Beaumont at his studio (260-1000 Parker Street, Vancouver)! You can also purchase copies here, or order from your local, independent bookstore! Many fond thanks to Judson, co-author Joanna Karaplis, and illustrator/designer Breanna Cheek, who brought Judson's pieces to life!
Thanks also to Read Local BC for the awesome giveaway swag!
Photo credit: Family Karaplis